When it comes to pancakeswap prediction indicators there are lots of it to choose. Today you will find the best pancakeswap prediction strategy indicators both FREE and Paid.
There are good ones and bad ones but today I will talk about the ones that are both free and paid.
These indicators can help you win more on the predictions and increase your chance of winning through techinical readings.
The best course of action is to follow the indicator and not get emotional and do your own bidding.
We want more win streak than losing in the long run.
Just think about long term and do not place your up or down predictions while emotional like many people.
What is pancake swap prediction beta?
Pancake swap prediction beta is a game on pancakeswap.finance where you predict the Price of BNB in a 5 minute time frame.
You can either decide the price of BNB will up or down on a 5 minute results and if the price of BNB goes to what you bet on, you will win.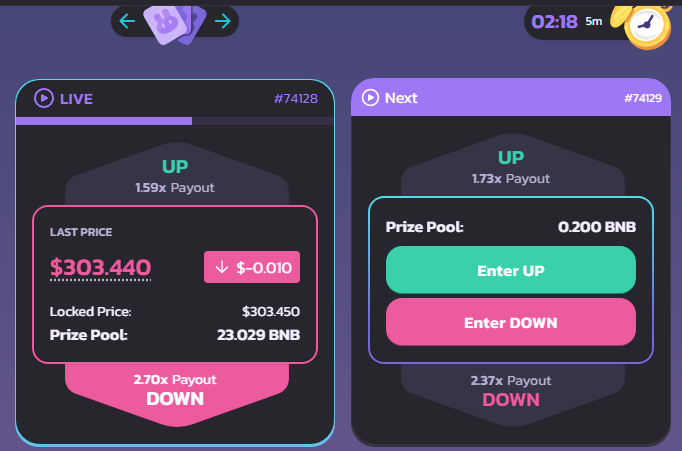 The reason it is different from gambling is because you can use technical analysis and can predict if the price of BNB goes up or down.
Best FREE Pancakeswap Prediction Indicator
As I have said there are lots of indicators out there which can be overwhelming to choose or follow.
The ones I use from time to time to predict my win on pancakeswaps predictions are FREE:
MACD- Moving average convergence divergence
Supertrend
Technical Ratings
Go to tradingview and add the above indicators listed.
After adding all the three indicators you will get something like the picture below.
I have changed the colour from red to blue as I feel like red is more aggressive but you can choose your own aswell or the default colours.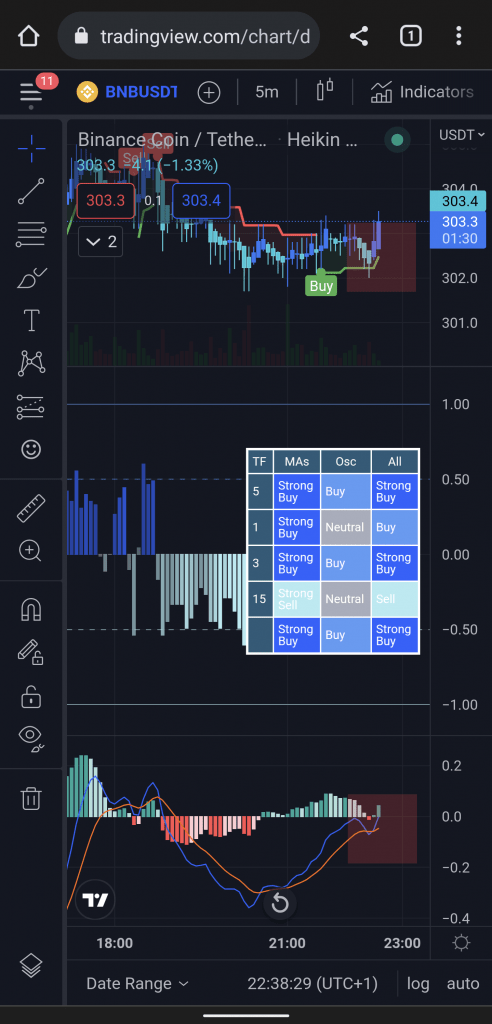 Pancakeswap prediction beta FREE strategy
Combine all the indicators listed.
When the indicator says strongbuy or strongsell on most of the boxes along with the MACD crossover and Buy Signal from supertrend indicator as highlighted, it is the best time to place your predictions.
It can be long wait before you find the perfect signal from all the three indicators but the chance of winning is greatly in our favour.
It is not 100% all the time but you will win more.
Always follow the instructions and not get too emotional or follow your your plan when placing your predictions.
Best Indicator For Pancakeswap Prediction (Paid)
The best Paid indicator has to be the bonus loophole indicator by Joel Peterson.
There has been a update on the pancakeswap prediction beta strategy now. Joel has managed to create a bot that places your bet 24/7 instead of waiting for the indicator to give you signals.
It automatically trades and collects your wins.
Check Out The Crypto Code By Joel Peterson
The Prediction bot is just one of the secondary tool provided by Joel. WaveBot is the main product which is a bot that makes 1.25-3% daily return using DCA and Joel's inhouse auto trading indicator. It runs all day and night and is good for anyone who have decent capital to start.
But If you are just starting out I highly recommend the prediction bot by itself.
The indicator is part of the mastermind group called The Crypto Code. It has the win rate of 70-95% which is huge.
Once you get into the mastermind group and add the indicator, the indicator tells you exactly when to put your up or down pancakeswap predictions on the tradingview chart.
Most of the time you win with this loophole indicator by Joel Peterson.
Someone asked How?

Joel replied they "figured it out"
Basically he has one of the best indicator out in the market at the moment which he designed for BNB 5 minute chart.
What is the Loophole pancakeswap Prediction Indicator?
Like I said, the indicator is a Joel Peterson creation which he shows in the video on how he made 95% win making him profit of $1,499.44.
The mastermind group is not cheap but when you get into the group you will be taught everything you need to know about how to make a living out of crypto and the loophole is just a bonus!
The group offers trade alerts, video tutorials and guidance, Alerts of the next big gem, forum, private chat to name a few.
It is one of the most lucrative group anyone can join to make huge profits.
How to Beat the pancakeswap Predictions
The best way to win the predictions is to combine both free and paid indictors listed and bet up or down when indicators tells you to bet on up or down on the exact time frame.
You will have at least more than 95% chance of winning combining both free and paid indicator.
You might need two screens to watch at the same time.
Tips on How to win on Pancakeswap predictions
Here is a list of tips and tricks I follow to win on the preictions:
Place your up or down before 30-45 seconds before the next game. It will give ensure if the price of BNB will not suddenly rise or fall against your predictions. Always bet on last minute.
Do not get too emotional.
Start small and don't gamble.
Its always good to swap for BUSD or CAKE token if you keep winning.
You can swap to CAKE token and lock the CAKE token on Pancakeswap pool which gives you 5.31% on flexible and up to 113% APY on your investment at the time of this writing.
Sometimes its best to check on news for Binance chain or BNB to see if the certain news will pump or dump the price of BNB and ride up or down.
Finally you don't have to play the game at all because there are people who have lost a lot of money on it. Just check the leader Board of pancakeswap to see people wins and lose.
Tips: There are many bots out there but at least 90% of them are the ones which will drain your wallet. It is basically a trap set up by people who will do anything to get your wallet. I would never trust anything that says free bot. Take caution when downloading bot from places like Pancakeswap-prediction github.
BONUS Pancakeswap Prediction on Reddit
There are lots of strategy on different sites, youtube and reddit.
The one I found the best to work is a guide created by a reddit user called MercyBeat.
He combines a 3 main indicators to make his win. They are Vol, TEMA and Stoch RSI.
Key takeaway from Mercybeat pancakeswap predictions on Reddit
Personally for me, this is the key takeway from his guide:
MercyBeat uses BNBUSD pair instead of BNBUSDT.
He uses Vol, TEMA (50,100,200 settings) and Stoch RSI as his indicators.
When the 50 crosses above the 100. He waits for the first bounce up off the 50 and place a up and exactly the opposite on placing a down.
Always follow the instructions and time it perfectly. If the timing is not perfect do not place your predictions.
Do not place your predictions on sideways graph i.e straight line with no much swing of up and down.
He waits for a swing from 0 to 20 or 100 to 80 on the Stoch RSI indicator.
Final point on the Pancakeswap Predictions Indicator
In conclusion, the game is a good side income if you know how to control yourself and follow strict guidance and rules.
It is not for everyone and the fun can turn to you losing your money so always be mindful and know when to call it a day.
Have a safe and fun predictions.
Free tradingview indicator for pancakeswap predictions.
I recently found a indicator called Bjorgum Key levels which is a very simple indicator that you can follow.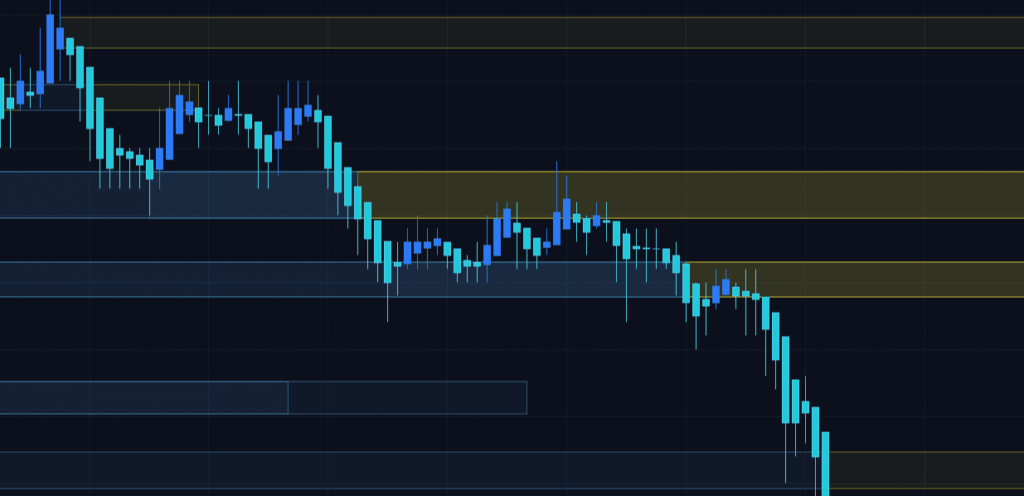 So the idea of this indicator is when the indicator shows parallel yellow line you are to place down bet on predictions.
When the blue parallel line is shown, you are to place up bet on predictions. This has a track record of around 60-70% winning which is very good.
As you can see on the graph, when the candle stick touches the yellow or blue lines it goes down and up to its resistance point.
I advise you to look at one, three and five minute time frame for more accuracy.