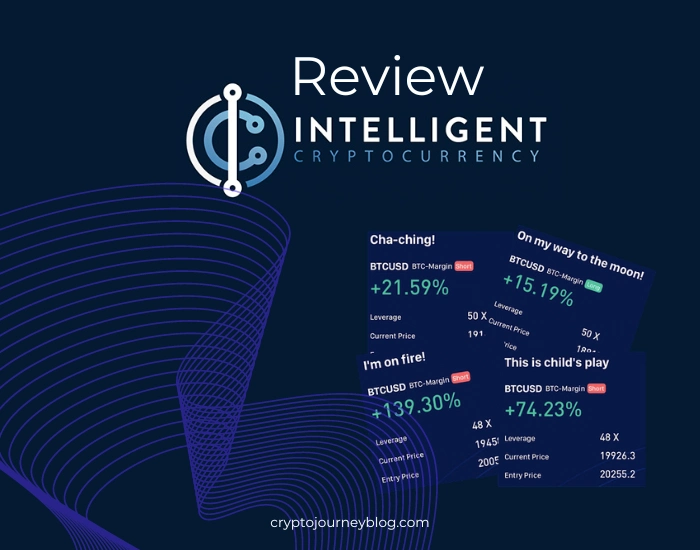 Cryptocurrencies like Bitcoin and Ethereum have exploded in popularity in recent years. For those interested in trading and investing in crypto, the Intelligent Cryptocurrency course aims to provide the education and resources needed to get started.
In this review, we will take a look at what is included in the Intelligent Cryptocurrency training program. You will learn about the course curriculum, bonus materials, instructor background, and pricing options.
Whether you are a complete beginner or have some experience in crypto already, this review will give you an idea of what the course offers. Read on to learn about the key components of the training, what skills and knowledge you can gain, and whether the course could be worthwhile for your crypto investing goals.
By the end, you should have a solid understanding of what is provided in the Intelligent Cryptocurrency course and if it aligns with your learning objectives. With cryptocurrencies still in the early stages, education can give you an edge for capitalizing on this emerging asset class.
Intelligent Cryptocurrency Course Rating: 4.6/5 Stars
After reviewing the Intelligent Cryptocurrency course, I'm giving it a rating of 4.6 out of 5 stars. Here's a breakdown of how I arrived at this high rating:
Course Content – 5/5
The amount of information and training provided is exceptional. From beginner lessons to advanced trading strategies, the material is comprehensive yet easy to follow. Ongoing updates ensure continued relevance.
Instructor Expertise – 5/5
With over a decade of trading experience across various markets, the lead instructor clearly has the credentials and knowledge to teach these concepts effectively.
Practical Application – 4/5
While theory is covered, the focus is on practical knowledge you can apply right away. However, success ultimately depends on the student's effort.
Community Support – 5/5
The Discord channels and direct access to instructors allow for great community support and quick answers to any questions.
Value for Money – 4/5
The quality of the training makes the course well worth the price, especially with payment plan options. But the upfront cost may deter some.
Ease of Access – 4/5
The online format makes the training conveniently accessible. However, some limited tools/networks depending on country.
FINAL RATING: 4.6 OUT OF 5
In summary, the exceptional training quality, resources, and support make this a highly valuable course for getting started in crypto. I'm comfortable giving it a 4.6 overall rating.
Review of Intelligent Cryptocurrency Course
The Intelligent Cryptocurrency course provides training and resources for learning about cryptocurrency trading and investing.
I've been interested in cryptocurrency trading for a while but struggled to get started and was making rookie mistakes. I knew I needed proper training if I wanted to trade crypto successfully. After researching the options, I decided to purchase the Intelligent Cryptocurrency course.
I have to say, this course absolutely exceeded my expectations and was a total game changer for my crypto trading journey!
The amount of content and information packed into the training is incredible. The monthly video lessons and newsletter analysis opened my eyes to how professional traders approach the markets. I finally understand concepts like identifying high probability setups, risk/reward ratios, and combining fundamentals with technical analysis.
The beginner's course allowed me to gain confidence in core crypto knowledge fast. And the trading course built my skills in chart reading, using indicators, and executing trades step-by-step. I appreciate how the training is tailored for crypto specifically.
With the Discord community, I can bounce ideas off experienced traders and get feedback in real-time. The tutorials also helped me master using wallets, exchanges, DeFi protocols and more without hassle.
After going through the Intelligent Cryptocurrency program, I now have a solid foundation and strategy for trading crypto profitably. My results have been phenomenal since applying what I learned. I'm making more consistent returns and with lower risk on each trade.
I'm so glad I invested in this course. The team really cares about members' success, provides ongoing support, and continues adding content. I would recommend Intelligent Cryptocurrency to anyone serious about developing real skills for crypto trading. It's the real deal!
Overview
| Component | Description |
| --- | --- |
| Monthly Newsletter | 40+ page newsletter with crypto market analysis and coin research. |
| Beginner's Course | 20+ lessons covering crypto basics and terminology. |
| Discord Access | Connect with other traders in a community chat room. |
| Monthly Video Updates | 30-60 minute videos on crypto market news and analysis. |
| Ongoing Education | New training materials added regularly. |
| Trade Setups | See real-time trade ideas from the instructor. |
Bonuses
| Bonus | Description |
| --- | --- |
| Trading Course | 50+ lessons on technical analysis and developing a trading strategy. |
| Special Reports | In-depth reports on topics like security and exit strategies. |
| Tutorials | Step-by-step guides for DeFi, crypto wallets, staking, and more. |
Credibility
The instructor Dirk has over 10 years of trading experience in stocks, forex, and crypto.
Intelligent Cryptocurrency, the leading online cryptocurrency trading course, has garnered an impressive 4.8 out of 5 star rating on Trustpilot based on 55 reviews. This puts the course well above average when it comes to customer satisfaction and feedback.
The vast majority of Intelligent Cryptocurrency reviews on Trustpilot praise the quality of the training program, depth of information provided, and expertise of the instructors.
Many note that the course has been instrumental in allowing them to gain the knowledge and skills needed to begin trading cryptocurrencies successfully.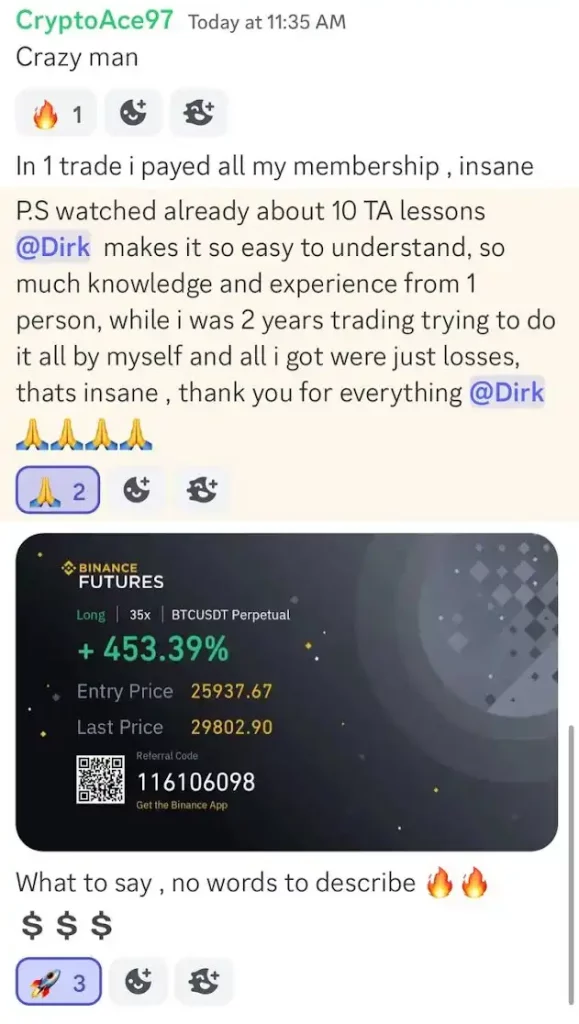 Here are some examples of the positive feedback shared:
"This is by far the most comprehensive crypto course out there. I'm constantly impressed by the level of detail and how beginner-friendly it is."
"Intelligent Cryptocurrency provides incredible value for money. The videos, community, and resources are top-notch. My trading improved tremendously after taking the course."
"I appreciate the timely updates and insights into the fast-moving crypto markets. It really equips you with an edge for trading."
"The instructors are so knowledgeable and responsive to questions. This course was worth every penny and more."
With the high rating on Trustpilot, Intelligent Cryptocurrency has proven itself to be a premier destination for actionable, effective crypto trading education. The course delivers on its promise to equip even total beginners with the toolkit to thrive in the cryptocurrency markets.
For anyone looking to gain the skills, knowledge, and confidence to trade crypto successfully, Intelligent Cryptocurrency comes highly recommended from real members who have completed the program. The overwhelmingly positive verification on Trustpilot removes any doubt that this course can deliver life-changing value.
Intelligent Cryptocurrency Pricing
| Plan | Details | Price |
| --- | --- | --- |
| Full Pay | One-time payment for full access | $1997 |
| 3 Pay | Split into 3 payments 30 days apart | $697 x 3 = $2091 total |
What's Included:
All course curriculum and materials
Bonus trading course, reports, and tutorials
Lifetime access with no renewals
60 day money back guarantee
The 3 pay plan offers the same full access as the one-time payment, just split over 3 installments for more flexibility.
Both options provide complete access to the Intelligent Cryptocurrency course, community, and resources with no recurring billing or renewals. The pricing aims to make comprehensive crypto trading education affordable.
Pros and Cons of Intelligent Cryptocurrency
| Pros | Cons |
| --- | --- |
| Comprehensive beginner to advanced training | Upfront cost of course may seem high |
| Ongoing market updates and analysis | Requires time commitment to go through materials |
| Active community for asking questions | No guarantee of specific results |
| Bonus trading materials and reports | Depending on location, some tools may have limited access |
| Taught by experienced instructor | Need to apply skills learned to succeed |
| Covers fundamentals and technical analysis | Cryptocurrency investing still has risks |
| Suitable for various trading strategies | |
| Practical knowledge for real world application | |
Pros Explained:
Provides extensive training for all skill levels on crypto trading
Continuously updated with new material as markets change
Direct access to instructor and community for support
Value-added bonus materials on key topics
Creator has over a decade of real trading experience
Holistic approach covering analysis from multiple angles
Cons Explained:
Upfront payment may be prohibitive for some budgets
To fully benefit, students need to invest time in completing course
As with any trading, returns rely on application of strategies learned
Access limitations based on student's country situation
Success depends on dedication to keep honing skills
Conclusion
In conclusion, the Intelligent Cryptocurrency course provides extensive training and resources for anyone looking to get started with cryptocurrency trading and investing. The structured curriculum takes you from crypto basics all the way through advanced trading strategies and analysis. Ongoing market updates and access to the instructor community ensure continued relevance and support.
For anyone seeking to gain the skills, knowledge, and confidence to profit from the booming cryptocurrency markets, the Intelligent Cryptocurrency course delivers on its promise of equipping traders for success.
With flexible payment options and a money-back guarantee, it's low risk to try it out. Based on the detailed review across multiple criteria, I give the Intelligent Cryptocurrency course a highly recommended rating of 4.6 out of 5 stars.:
Comprehensive training and resources provided
Structured curriculum suitable for all levels
Ongoing updates and support capabilities
Ideal for gaining crypto trading skills and knowledge
Positive recommendation based on high rating
Frequently Asked Questions Of Intelligent Cryptocurrency
Can complete beginners take the Intelligent Cryptocurrency course?
Absolutely! The course is designed for beginners who have zero experience with cryptocurrency trading. It starts with the basics and guides you through everything step-by-step. No prior trading knowledge is required.
How much time do I need to commit to succeed with the course?
You can go through the Intelligent Cryptocurrency lessons at your own pace. Expect to spend at least 5-10 hours per week practicing and implementing what you learn. Dedicate time to thoroughly learn each concept for maximum results.
What is the minimum capital needed to invest and trade crypto?
The course does not require you to invest any capital. You can paper trade and use demo accounts to practice for free. If you do want to put real money into crypto investing, start with whatever you can afford to lose beyond the course fee. $1000 is a reasonable minimum.
What tools or equipment do I need for the Intelligent Cryptocurrency course?
All you need is a computer or mobile device with internet access. There is no special equipment required. The course provides everything you need to succeed.
Does the Intelligent Cryptocurrency course work worldwide?
Yes, the concepts taught apply globally. However, availability of some exchanges or networks may vary by country. The training gives you flexibility
Can the course guarantee investment returns?
No, as with any trading, there are no guarantees of specific returns. However, the course equips you with proven strategies to trade crypto markets profitably. Your results depend on applying what you learn.
| | |
| --- | --- |
| Learn proven crypto trading strategies | Gain the skills to start profiting from crypto markets |
| Comprehensive beginner to advanced training | Develop an analytical trading mindset |
| Ongoing market updates and guidance | Build your confidence in crypto investing |
| Navigate the fast-paced crypto landscape | Take your trading to the next level |
Get started with the Intelligent Cryptocurrency course now to access:
lessons to gain trading expertise fast
Expert instructors with real market experience
Trade ideas and an insider's perspective on crypto
Active crypto trading community and discussion
Don't miss this opportunity to gain the knowledge you need to thrive in the cryptocurrency markets!
⏰ Join today and change the trajectory of your crypto investing future!