Looking for the best prop remote trading firms?
Prop trading is one of the best way to leverage your position into financial market.
I will get straight to the point and show you the 5 best remote prop trading firms that you can join now.
By the end of this, you will able to choose the right proprietary trading firm for your need.
I have reviewed and compared the top firms for you to choose and start trading.
You might find this article updated every month and see new updated version as I find new and better firms with good offers or promotions.
Best Remote Prop trading Firms Of 2023
As of today these are the top proprietary trading firms:
Best Prop Trading Firms
Key Facts
Visit
Surge Trader
Perfect for trading variety of assets
Profit Split- 75%
-The maximum trading amount is $1 million.
-The audition process is simple.
-10% profit targets with no deadline for attainment
-Withdrawals are handled immediately.
Surgetrader
FTMO
"Overall Best"
Profit Split- 90%
-The maximum amount of capital is $400,000.
-Because of its one-time expense, it is one of the best proprietary trading enterprises for beginners.

FTMO
Top Step
Best forex prop firms
Profit Split –100% on first $5000
–80% after
-14-day trial period.
-Trading performance-based scaling strategy
-Keep the first $5,000 in profit as well as the remaining 80%.
Topstep
Fidel Crest
Best for experienced professionals
Profit Split -90%
-The funding limit is one million dollars.
-Level 2 verification allows you to collect a bonus of up to 50% of your revenue.
-CFDs, stocks, forex, and cryptocurrency are all available for trading.
Fidel Crest
The 5%ers
Best for beginners and forex trade
Profit Split– 100 percent to 50/50.
-Funding in actual accounts is available immediately.
-At each step, funding doubles.
-Instant, freestyle, and $100,000 bootcamp are the three options.
The 5%ers
top prop trading firms
Expert Opinion:
 The best firm provides trial accounts, immediate financing, and incentives, while others offer up to a 90% profit share. These are the best prop trading firms that you can join.
SurgeTrader

SurgeTrader is a prop business created in 2021 in Florida, United States.
Despite its brief history, it is rapidly expanding because to the benefits it provides to its users.
Surgetrader has a quick one-step audition process, the ability to open a funded account with up to $1,000,000 right away.
It a profit-sharing system in which the trader keeps 75% of the gains.
Surgetrader is a unique platform that provides traders with trading information and tools. It gives customers an easy-to-use interface that is tailored to their specific requirements.
This prop trading platform allows users to trade more than simply traditional financial assets.
It's a company that has pleasantly impressed me. It distinguishes out in my opinion because of its straightforward trading regulations.
You aren't working with a firm that would impose dozens of intricate regulations for you to follow in order to manage its money or an interminable review procedure.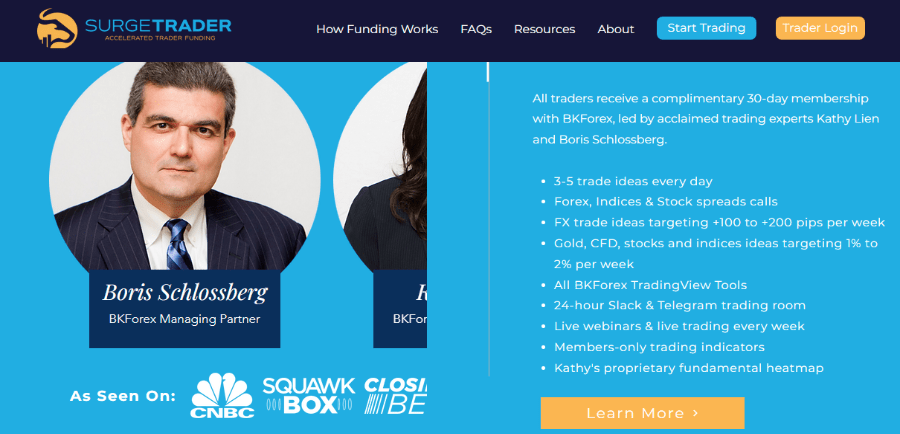 Features Of SurgeTrader
There are no monthly recurring costs.
There are no minimum trading days for account levels, allowing you to easily qualify for larger financing limitations.
Pros Of SurgeTrader
Profits can be divided up to 75%.
The trading limit is up to $1 million.
Non-recurring contributions are required to be eligible for a live-funded account.
One-step audition procedure.
10% profit objectives with no timetable for achievement
Withdrawals are processed quickly.
Cons of Surgetrader
The company's operational time is brief (started in 2021).
Maximum drawdown is 5%, and the maximum number of open lots is 1/10000.
Leverage is low- 10:1 for forex, commodities, indexes, and oil; 5:1 for stocks; and 2:1 for cryptocurrency.
When choosing the right proprietary trading firms, always look for company's reputatoin i.e social media updates and reviews from actual clients.
FTMO

FTMO is the world's largest prop trading company and one of the best proprietary trading firms anyone can join.
FTMO was formed in Prague, Czech Republic, in 2014.
Thousands of traders have profited from this prop company.
They delivered more over $27 million in gains to its financed traders in 2021.
Their trading guidelines are straightforward; using their scaling programme, you may manage a $2 million USD account and keep 90% of the earnings generated.
The FTMO Challenge and Verification course enables people to study and uncover their forex trading skills, after which they are asked to join the proprietary trading firm and manage a trading account with the company.
Furthermore, the organisation engages performance coaches and does account analytics, among other things, to assist consumers once they begin trading.
As a trader, you receive 90% of your profits from trading with the business and its tools.
Customers are also given instruction on how to control trading risks.
As a result, it is regarded as one of the greatest proprietary trading platforms.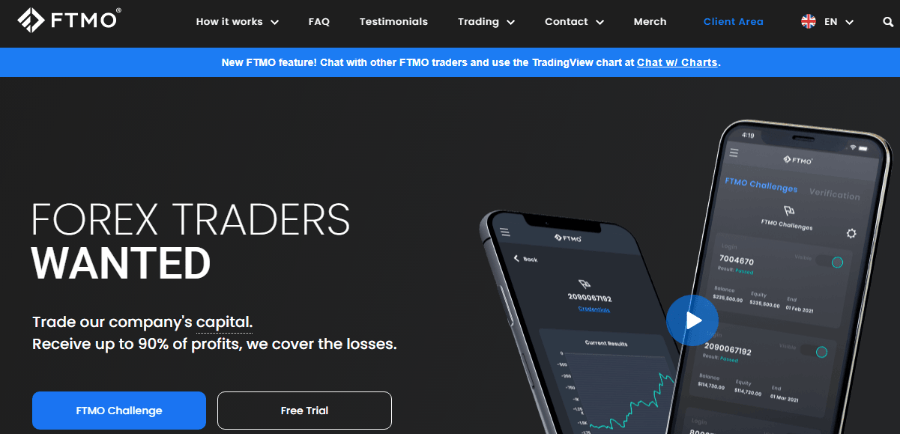 Features of FTMO
The maximum capital is $400,000.
The payout ratio is 80:20. When the FTMO account balance limit is increased, it changes to 90:10.
It is one of the top Forex Prop trading organisations because to its leverage trading at 1:100.
It is one of the greatest proprietary trading businesses for novices due to its one-time cost.
Payments are made once a month.
Pros of FTMO
Retail traders have access to integrate MT4, MT5, and CTrader trading platforms.
FTMO allows you to trade cryptocurrency as well as FX, indices, commodities, equities, and bonds.
There are around 7 payment options accessible which includes bank transfer and Skrill.
Cons of FTMO
Higher price as compared to alternative possibilities.
Unless you employ the swing trader challenge, you cannot hold trades through the market weekend closing.
What to look for in prop firm?
The best prop trading firms have excellent customer service and always provides latest tools and updates for their clients to achieve more successful trade.

Also check to see how long the company has been operating.
Top Step

Topstep recruits traders and offers funding, assistance, risk management methods, and coaching to help them trade profitably.
Topstep was founded in chicago USA, in 2010.
Traders are subsequently rewarded with a substantial profit split.
Traders that participate in the programmes will acquire profitable trading behaviours while avoiding those that do not.
To obtain a funded account, you must first demonstrate your ability to trade and manage risk, after which you earn more money progressively based on your trading success.
A trader selects one of three account sizes depending on monthly price, purchasing power, profit objective per step, number of contracts, loss limitations, and trailing maximum drawdown.
The minimum purchasing power or funding is $50,000, with a maximum of $150,000 available.
Profit is distributed as follows: 100% up to $5,000, then 80% beyond that.
Features of Top Step
14-day free trial.
Coaching sessions for group performance.
Private trading coach with experienced coaches and artificial intelligence tutoring. To earn more, use expert trading tools and resources.
Scaling strategy based on trading performance.
Keep the first $5,000 in profit and the remaining 80%.
Pros of Top step
According to the company's website, it has funded over 9000+ accounts for consumers in 143 countries in 2021.
Leverage of up to 1:100 possible.
Cons of Top step
Only futures trading is available.
A monthly recurring payment is required for the review procedure. You could be possible to accrue various fees.
There is a $50 bank transfer fee for withdrawals of less than $500.
Ultimately, Profit splits is the main money maker in prop trading. 

Always look for high profit splits from the firm which also has good reputation. 

The best proprietary trading firms normally provides 70 percent to 90 percent profit splits.
Fidel Crest

The Fidelcrest prop trading firm recruits, trains, and analyses Forex, CFD, and other prop traders who may subsequently benefit and commission by applying for the company's cash.
Fidelcrest was founded in london UK, in 2018
Following a successful first discovery, a trader is advanced to the sponsored verification stage, where they must demonstrate the effectiveness of their technique and potentially receive a 50 percent profit split.
Following that, the trader is promoted to Fidelcrest Trader and receives funding ranging from $150,000 to $1 million USD, with a profit split of up to 90%.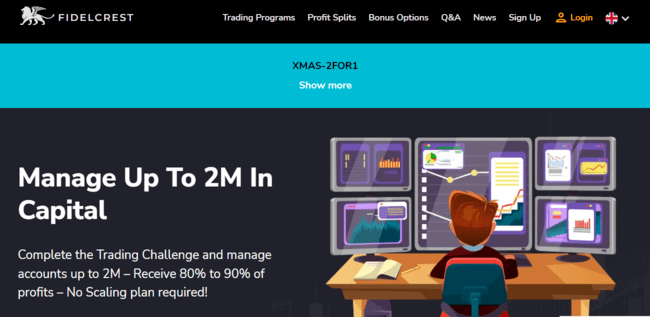 Features of Fidel Crest
Profits can be divided up to 90%.
Receive signup commissions based on verification performance. After at least two trading days, traders can begin earning real money.
Robots are not permitted.
Swing trading is permitted.
Pros of Fidel Crest
The financing cap is one million dollars.
Profit splits of up to 90% are possible.
In level 2 verification, you can receive a bonus of up to 50% of your revenues.
Trade several assets, including CFDs, stocks, FX, and cryptocurrency. Withdraw via a bank, PayPal, or another means.
Cons of Fidel Crest
The evaluation process is divided into two phases and might take up to 90 days.
The 30-day trading limit discourages long-term strategic trading.
The 5%ers
The 5%ers was founded in Israel in 2016.
The 5% ers is one of the firms which allows you to trade forex and commodities with a live account right away, eliminating the need for trial accounts.
5%ers is hence one of the firms best suited for beginners.
For those that prefer it, the firm also offers immediate funding. There are three bundles available from the firm.
The first bundle is called the instant funding.
You will be able to trade live from the first day, with no trials, and be paid right away.
The second bundle is called the freestyle.
After 100 positions, you will be financed and will receive 100% of the revenues.
And the third bundle is the $100,000 boot camp.
Complete the three challenge rounds to receive a $100K account.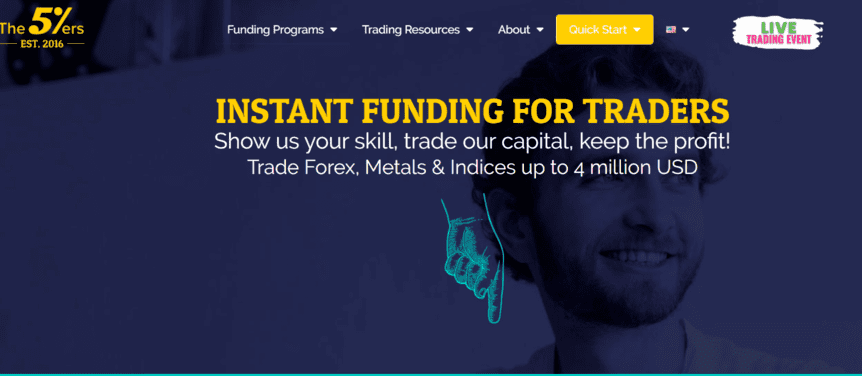 Features of The 5%ers
There are no payout minimums.
MetaTrader 5 is used by traders.
Immediate deposit in real accounts.
Lots of trading resources.
Payouts on regular basis.
Pros of The 5%ers
Depending on the plan, profit splits range from 100 percent to 50/50.
Three plans instant, freestyle and $100,000 bootcamp.
Trade up to 4 million USD in forex, metals, and indices.
Cons of The 5%ers
If you are only trading certain plan you only get 50/50 profit splits.
Prop Trading FAQs
What is prop trading?
Prop trading is a type of trading in which you trade stocks, coins, commodities (Bonds, Indices), and the FX market by using firms funds.
Traders who join the firm and make successful trades share the profits with the firm.
Proprietary trading or also called prop trading takes place within a financial institution or commercial bank.
Prop trading's purpose is to earn money for the company.
Prop traders don't work for outside clients; instead, they manage the firm's investments.
Some of the famous prop traders are Ivan Boesky, Steven A. Cohen and John Meriwether.
Hold brothers is one of the America's oldest day trading company. The company provides proprietary softwares.
What are the Best Prop Trading Firms?
These are the list of proprietary trading firms that are the best.
-FTMO
-Fidel Crest
-Top Step
-Surge Trader
–The 5%ers
They are currently the best prop trading firms you can join.
How much do the best prop traders make?
The salaries of Prop Traders in the US range from $42,000 to $800,000 , with a median salary of $200,000.
The middle 57% of Prop Traders makes between $200,000 and $400,000, with the top 86% making $800,000.
Is proprietary trading legal?
The simple answer is that proprietary trading is not unlawful, unless you work for one of the big banks.
Banks are no longer permitted to engage in proprietary trading as a result of billions of dollars in losses sustained during the 2008 financial crisis.
What Does a Remote Proprietary Trader Do?
A remote proprietary trader trades stocks, currencies, and bonds from the comfort of their own home.
You may operate as a remote proprietary trader for a bank or financial institution, with responsibilities focusing on stock market trading.
How do prop trading firms work?
Prop trading businesses recruit traders and provide funds for them to trade with, and when they earn a profit, the firm receives a portion.
A prop trading firm might be remote or need prop traders to work at their physical premises, if you're looking for more information on what prop trading is.
The majority of the people on this list are from all around the world.
What are the other top futures prop firms?
How to Choose the Best Prop Trading Firms
Because there are so many, picking the best proprietary trading firms may be challenging.
This guide will show you what to look for while deciding which firm to join.
Choosing the right prop trading firm
Finding the correct business to partner with is a critical component of success in prop trading.

There are several proprietary trading organisations on the market, each with its own set of advantages and disadvantages.

So, how do you pick the best one? Here are a few things to think about when choosing the proprietary trading firms:
Check the Reputation of the company
Pose the following questions to yourself:
What is their track record as a prop company?
Look for things like when the company was founded and who founded it.
Follow the founders on twitter for updates.

Is there a social media presence for them?
Most firm should have good social media presence i.e twitter, youtube, facebook etc.

Do they provide any further services?
Training, guides, and assistance are always the first things to look for in a good firm.
Look into the company's history and how long it's been in operation.
When getting started in prop trading, the first thing to look into is a company's reputation.
You should ensure that the company has a track record of profitability and is well-regarded in the industry.
Investigate the company and see what other traders have to say about it.
It's also a good idea to look at the company's Trustpilot rating, twitter and other social media services.
Look out for fees
Before signing up, make sure you understand the firm's price structure.
Always do your research before you join the firm.
Fees might vary greatly from one business to the next, so it's critical to select one that fits your budget.
Good Customer Services
Any queries you have regarding your account, the markets, or trading techniques may be answered by good customer service.
They can also assist you in resolving any difficulties you may be experiencing with your account.
The company should provide lots of resources to help the client to achieve success.
Assests Available
Best Prop trading firms let you to trade a wide range of assets, including stocks, futures, and currencies.
This allows you to locate the correct market to trade in and improve your trading skills.
And, while many of these institutions are classified as FX brokerages, virtually all top trading firms enable trading in cryptocurrencies and commodities.
Conclusion
So there you have it, a full list of the proprietary trading firms.
I hope you found the right firm and looking forward to trade with them.
The key thing to take away from when trying to find best prop trading firms is to look company's reputation.
Profit splits of 90%-100% are available with some of the top offerings from FTMO, Topstep abd Fidel crest. You should also assess prop trading businesses based on the greatest amount of capital they can give.
Most prop businesses on the list provide trading instruments other than stocks, futures, and FX for consumers wishing to diversify their portfolios.
Best of luck.
Read More: