In this wavebot review you will learn all the information you need to know about what wavebot is and how it works.
I bought the the crypto code not to long ago and at first its bit overwhelming but quickly got to know most of the offers Joel has in his member only master mind group. Even though the course is expensive but I have already made my money back and so much more from crypto algorithm trading (3commas Bot Setup) and earning affiliate commission. If you decide to take action and go for it, make sure to provide your correct address, as you will also receive a surprise in your mail after you join the memebers area.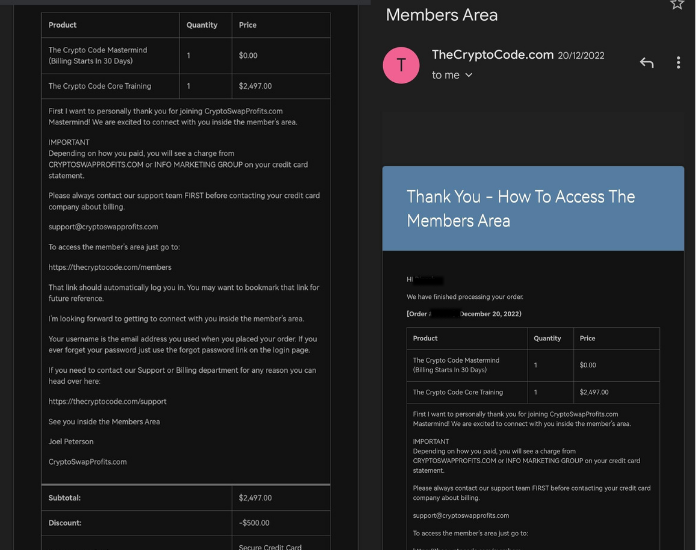 Wavebot is one of the most fascinating setup in the automation of crypto currency. Joel Peterson is the founder of the crypto code and wavebot is just one of the bot he has for his paid members. The other bot being the Predictions bot, which is a another topic.
Joel Peterson Wavebot Review
I will try to make it as simple to understand for you. The wavebot is a combination of Joel inhouse indicator which uses 3commas bot automation to trade list of crypto currencies Joel provides 24/7.
It has a profit rate of 0.54 percent to 1.25 percent per day on average and it might not sound much but with the power of compounding, it goes a long way. Use the calculator below I made on what you can expect from your investment.
Wavebot Strategy
Joel's Invite only indicator (It is actually very good)
Using 3commas to run automated 24/7 crypto trading with a list of provided crypto currencies in the member's area using the wavebot indicator.
Make consistent profit of 0.54 percent to 1.25 percent per day which you can compound everyday.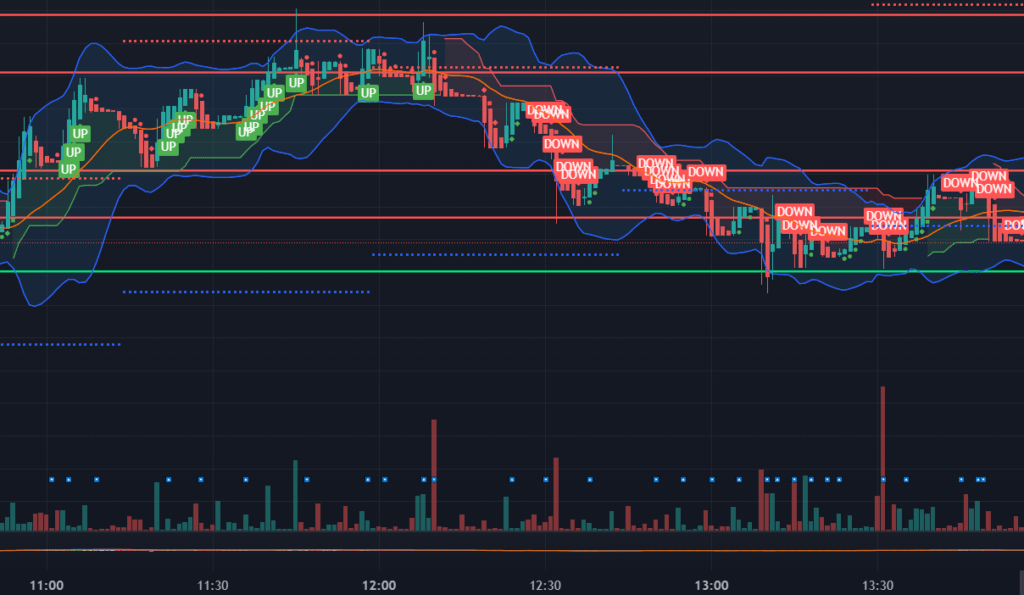 Pros And Cons
Pros:
Provides a reliable and effective tool for maximizing profits in the cryptocurrency market
Utilizes an in-house indicator and 3commas automation to trade a list of cryptocurrencies around the clock
Offers an impressive profit rate of 0.54% to 1.25% per day on average, which can be compounded over time to achieve significant returns
Includes a profit calculator to help users estimate their potential profits based on their initial investment and daily percentage
Cons:
As with any investment, there is always the risk of losing money in the cryptocurrency market.
The bot is only available to paid members, so there may be a cost associated with using it
Wavebot.ai Profit Calculator
To make it even easier for users please use the custom profit calculator that allows you to input initial investment and daily percentage. This calculator provides tells you your daily, weekly, monthly, 3 months, 6 months, 1 year, and 5 year time periods ROI, giving you a clear idea of how your investment will grow over time. I been getting anywhere from 0.5% to 1.2% daily return and been compounding it everyday.
Enter the initial investment and daily percentage to calculate the profit on investment:
Profit:
Daily: $
Weekly: $
Monthly: $
3 Months: $
6 Months: $
1 Year: $
5 Years: $
The Crypto Code Member's Area
FAST START TRAINING:
WaveBot Fast Start: This resource provides a comprehensive training program to help members understand and effectively use WaveBot, a crypto bot trading strategies designed for cryptocurrency markets. Joel shows how to setup the wavebot automation on 3commas and how to request access for it. Once you set it up you will be surprised when you start getting alerts on your phone 10-15 times daily of the closed profit deals. So, now a days my phone is on silent. (You can deactivate the alerts if you want)

TCC Trend Fast Start: This resource offers training on utilizing TCC Trend, which is a tool or strategy for identifying trends in the cryptocurrency market.
CORE TRAINING:
Crypto Beginners Course: This course is designed for individuals who are new to cryptocurrency and provides fundamental knowledge about the subject, including blockchain technology, cryptocurrencies, and basic trading concepts.

Crypto Masters Course: This advanced course is intended for individuals who already have some knowledge of cryptocurrencies and trading. It dives deeper into advanced trading strategies, technical analysis, risk management, and other essential topics.

Top 25 Altcoin Gems Bonus: This bonus resource provides information on the top 25 altcoins, which are alternative cryptocurrencies to Bitcoin, that are considered promising investments.
Legacy Core Training: This resource includes previously recorded core training sessions that cover various topics related to cryptocurrency trading and investment.

Predictions Bot Beta: This resource offers access to a beta version of a predictions bot, which provides insights and predictions on the cryptocurrency market.

Knowledgebase & Support Portal: This resource serves as a central hub of information and support for members, providing access to FAQs, guides, tutorials, and other resources.

THE CRYPTO CODE MASTERMIND

The TCC Forums: This is an exclusive community forum where members can engage in discussions, ask questions, share insights, and learn from fellow traders and investors.

TCC Telegram Alerts Group: This is a dedicated Telegram group where members receive real-time alerts, updates, and important announcements related to cryptocurrency markets and trading strategies.

Events & Weekly AMA Sessions: Members have access to live events and Ask-Me-Anything (AMA) sessions where they can interact directly with experts, industry professionals, and fellow members.
Announcements: This resource provides important announcements, updates, and news related to The Crypto Code and its offerings.

Monthly Contest – Win Crypto!: Members can participate in monthly contests where they have a chance to win $500 bitcoin as prizes.
TRADING TOOLS & RESOURCES
Market Updates: This resource provides regular updates on the cryptocurrency market, including analysis, trends, and insights from experts.
Premium Trade Alerts: Members receive premium trade alerts, which are recommendations on specific cryptocurrency trades or investments based on market analysis and expert opinions.
Portfolio Pass: This resource offers tools and guidance to help members manage and optimize their cryptocurrency portfolios.
Request Indicator Access: Members can request access to specific trading indicators, which are tools used to analyze market data and make informed trading decisions.
Profit Signal 2.0 Indicators: This resource provides access to Profit Signal 2.0 indicators, which are advanced trading indicators designed to identify potential profitable trading opportunities.
WaveBot Strategies: This resource offers various strategies for using WaveBot effectively in cryptocurrency trading.
WaveBot Pairs Watchlist: Members receive a curated watchlist of cryptocurrency pairs that are recommended for trading using the WaveBot strategy.
TCC Watchlist: This resource provides a list of cryptocurrencies that are being closely monitored by The Crypto Code team for potential trading opportunities.
The Crypto Code Conclusion
Wavebot.ai is a trading bot that has been designed to help users maximize their profits in the highly volatile market for digital assets. Developed by Joel Peterson and Adam shorts, the founder of the crypto code, it is a combination of an in-house indicator and 3commas bot automation that is used to trade a list of cryptocurrencies around the clock.
One of the key features of is its impressive profit rate, which for me has been between 0.54% and 1.25% per day on average. While this may not sound like a lot at first glance, the power of compounding means that these returns can quickly add up over time, resulting in significant profits for users.
Overall, Wavebot.ai in my opinion is a reliable and effective tool for maximizing profits in the cryptocurrency market. Its combination of an in-house indicator and 3commas automation, coupled with its impressive profit rate, make it an excellent choice for anyone looking to make the most of their investments in digital assets.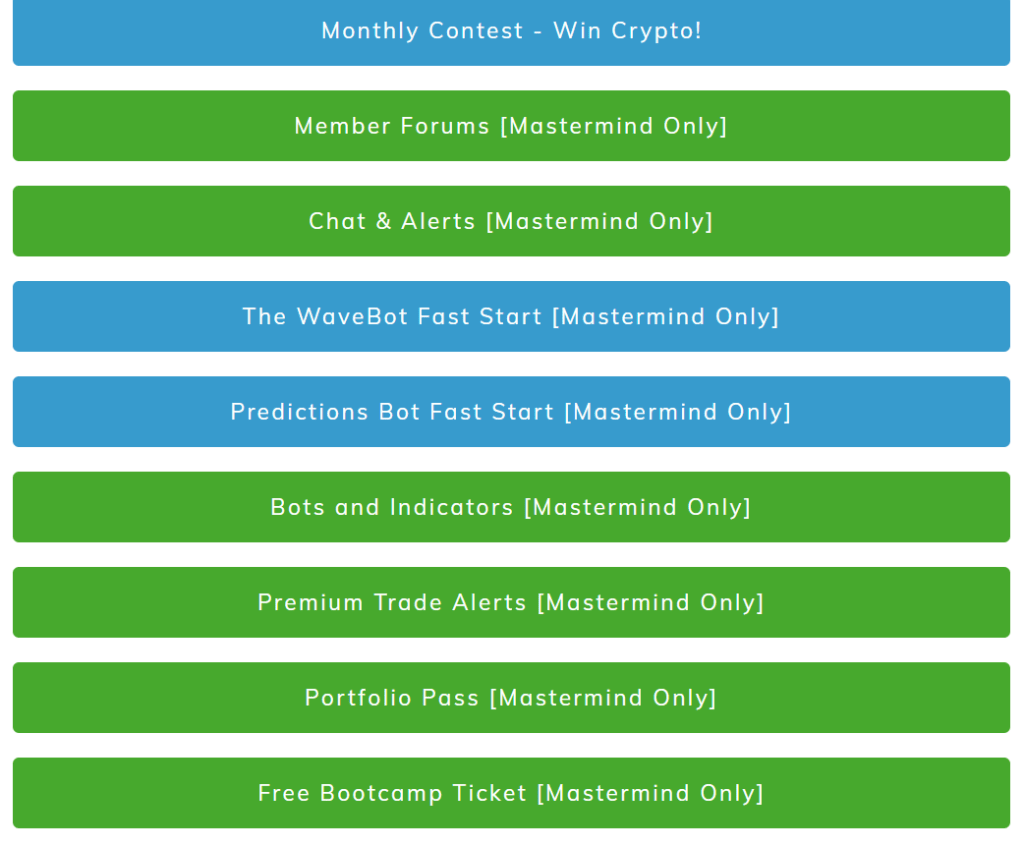 Also Read my full review on The Crypto Code because Wavebot is only one of the tool you get from the mastermind group.
Frequently Asked Questions About The Crypto Code
How much does WaveBot cost?
The cost is $1,997 and $97 every month to keep using the wavebot automation, payable in either fiat currency or cryptocurrencies such as Bitcoin.
This investment grants users a lifetime license to utilize the software and benefit from its powerful features.
Considering the potential for consistent profits in the cryptocurrency market, the price tag represents a valuable investment for traders seeking to enhance their trading strategies.
Is Crypto Code Legit?
If you're looking for a reliable and effective tool to boost your cryptocurrency trading profits, look no further than the Crypto Code's Wavebot. Let me tell you why this bot is an absolute game-changer and why you should seriously consider giving it a shot.
First and foremost, Wavebot's approach to trading is both innovative and sophisticated. Combining an in-house indicator with 3commas automation, it ensures that you have a well-rounded strategy at your fingertips. This means you can take advantage of profitable opportunities in the cryptocurrency market 24/7, without having to constantly monitor the markets yourself.
But the real magic lies in the results. The average profit rate of 0.54% to 1.25% per day may not sound like much initially, but trust me, the power of compounding is a game-changer. Those seemingly small daily gains can quickly snowball into substantial returns over time. It's all about patience and letting your investments work for you.
One thing that sets Wavebot apart from other trading bots is the comprehensive member's area provided by the Crypto Code. They leave no stone unturned in ensuring that you have all the tools and knowledge you need to succeed. From beginner courses to advanced trading strategies, you'll find a treasure trove of resources to sharpen your skills.
Not to mention the thriving community of like-minded traders and investors in the Crypto Code Mastermind. Engaging in discussions, getting real-time alerts, and participating in live events and AMA sessions will undoubtedly give you an edge in the market. Learning from experts and fellow members is an invaluable asset on your trading journey.
I understand that investing in a trading bot comes with questions about cost and risk. Rest assured, Wavebot is a legitimate tool, and the Crypto Code is transparent about its pricing. For $1,997, you get a lifetime license to utilize the software, and with an additional $97 per month, you can keep using the wavebot automation. When you consider the potential for consistent profits in the volatile cryptocurrency market, this investment is undoubtedly worthwhile.
Of course, I won't sugarcoat the fact that cryptocurrency trading involves risks. It's essential to be cautious and invest only what you can afford to lose. However, with the right tools and strategies like Wavebot, you significantly enhance your chances of success.
So, dear reader, if you're ready to take your cryptocurrency trading to the next level, Wavebot is the tool you've been waiting for. Its reliability, impressive profit rate, and the extensive support of the Crypto Code community make it a compelling choice. Don't miss out on this opportunity to potentially maximize your profits and achieve your financial goals.
Join the Crypto Code today and experience the power of Wavebot for yourself. Your journey to crypto trading success starts right here, right now.